Your Source For Steel
We are your solution for quality aluminum and steel products in Southern Ontario.
Let Us Steel Your Business
B & D Steel – Vast Inventory & Incredible Service In Southern Ontario
When you need your steel order immediately, turn to B & D Steel and keep your project on schedule. Based in Burlington and serving clients throughout Southern Ontario, we have thousands of grades and sizes of steep and aluminum in stock.
Diverse Products, Dedicated People
We will always have what you need, when you need it. Whether your job calls for beams, plates, tubing, bars, sheets, or mesh, we have you covered. We back our 
vast inventory
 with a staff dedicated to providing the quickest turnaround times in the industry. You will enjoy competitive pricing with no minimum order requirements. We sell cut pieces for your convenience, allowing you to purchase only what you require.
We supply: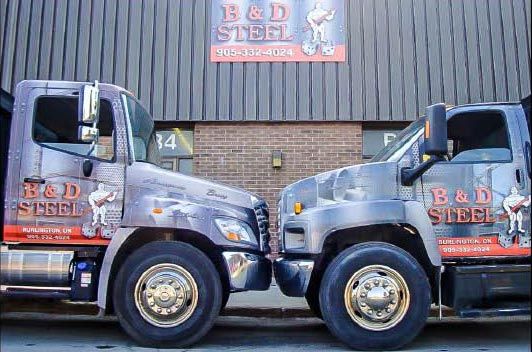 Same Day Pickups & Deliveries
At B & D Steel, same-day pickups are always welcome. We can get your order ready in as little as 30 minutes, keeping your downtime at a minimum. We also offer same-day and next-day deliveries using our own fleet of trucks. We work hard to meet your specific requests by offering production band saw cutting and shearing capabilities of ½ inch thick by 10 feet. B & D Steel is pleased to work directly in all aspects of the industry as well as with hobbyists.
Get the steel you need fast and receive service beyond your expectations by calling B & D Steel. We have over 3000 items in stock and a team ready to fill your order quickly. Contact us today!
About B & D Steel
We are a family-owned and operated steel supplier with over 30 years' experience.
Steel Services & Supplies
We offer aluminum and steel products of various grades and sizes.
Here For You
We're conveniently located new the QEW and 403 highways.
All Your Steel Needs
Competitive prices, comprehensive selection, and exceptional service.